Fred's 30 Day Lead Generating Process
The  most important ongoing task you'll be doing as an internet marketer that will explode your income is lead generation.
Getting subscribers on your email list allows you to communicate with them for months and years as they look to you for guidance and recommendations.
Generating leads for any niche generally requires the same steps. Each step will provide you with a new opportunity to grow your audience and business to its fullest potential.
Your Email List is your most Valuable Asset
Let's get started with day 14 of my 30-step plan for lead generation that can help you build a substantial email list of niche followers.
Step 16: Getting Loads of Leads from Instagram
Instagram is targeted for those with an artistic eye.
It's based on pictures or graphics you create. Some may contain quotes.
Your pictures and quotes can be centered around one subject…
or a wider variety depending on what your end sale products are all about.
If you can come up with exciting visual displays for your business, you will be able to attract an audience and ultimately get them on your list.
It will take time to build a large following, and the correct use of hashtags – but it's a thriving platform for many niches.
Once you've gained a following, you can start to post Instagram stories and include links to your lead magnet page.
Instagram "Stories" are short videos.
All you have to do is create a sticker when editing your story, and paste your link into it.
You can also direct viewers to your bio, which can hold one link at a time.
You can also use paid advertisements to send more users straight to your opt in offer.
Any questions?
Hit me up.
I'm here to help.
When you combine the above, $10,000/mo is not far off!
(p.s.  Just added a new lead source there that is HOT.  Check it out!)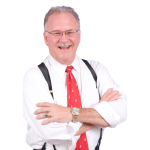 Fred "The Submarine Guy" Raley
Fred@SubmarineGuy.com
http://www.TrafficLeadsNSales.com
P.S.  Giving away bonuses is how all the successful marketers see success.  Want to get in that game?  Pick up your weekly bonuses at $5Friday.  From there, scroll down to the purple Weekly Bonuses graphic, click it,  and grab all you want!  The more bonuses you have, the more you will make.  These are all FREE.
P.P.S.  Check out my special Bonus Page to see what I am offering for FREE.
P.P.S.  Did you miss any previous Lead Generation Lessons?  Get them HERE!
💯Copy Success!  It works!💯