Fred's 30 Day Lead Generating Process
The  most important ongoing task you'll be doing as an internet marketer that will explode your income is lead generation.
Getting subscribers on your email list allows you to communicate with them for months and years as they look to you for guidance and recommendations.
Generating leads for any niche generally requires the same steps. Each step will provide you with a new opportunity to grow your audience and business to its fullest potential.
Your Email List is your most Valuable Asset
Let's get started with day 17 of my 30-step plan for lead generation.
Step 17

: Partnership Profits
If you can find someone that you trust to partner with, you may want to work together to generate leads.
You can look for brands or businesses that fit in your niche who desire the same audience.
They might have an audience that is completely separate from yours, even if both audiences have the same interests.
So when you work together, you can combine audiences and potentially double your reach.
You may even exchange ideas and strategies and brainstorm together to determine what methods will work best for your businesses.
Bouncing your ideas off of another like-minded person is a great way to get another perspective on things from someone who understands what your goals are.
Make sure there is a equal exchange of value in the relationship.
One person carrying a heavier load may feel like they are getting the short end of the stick.
When you are looking for someone to work with, try to find someone who has more success than you do.
They could even become more of a mentor and less of a partner, if they are willing to help you out.
Once you are ready to reach out, make sure you've prepared a solid line of reasoning for why you two should work together to cross promote each other's free, list-building content.
Don't forget to include what you can bring to the table and how the connection would be mutually beneficial.
For example, if you don't have a big list to email for them, you might be able to tout your strong social media presence instead.
Any questions?
Hit me up.
I'm here to help.
When you combine the above, $10,000/mo is not far off!
(p.s.  Just added a new lead source there that is HOT.  Check it out!)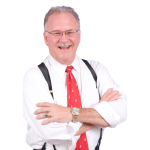 Fred "The Submarine Guy" Raley
Fred@SubmarineGuy.com
http://www.TrafficLeadsNSales.com
P.S.  Giving away bonuses is how all the successful marketers see success.  Want to get in that game?  Pick up your weekly bonuses at $5Friday.  From there, scroll down to the purple Weekly Bonuses graphic, click it,  and grab all you want!  The more bonuses you have, the more you will make.  These are all FREE.
P.P.S.  Check out my special Bonus Page to see what I am offering for FREE.
P.P.S.  Did you miss any previous Lead Generation Lessons?  Get them HERE!
💯Copy Success!  It works!💯