Fred's 30 Day Lead Generating Process
The  most important ongoing task you'll be doing as an internet marketer that will explode your income is lead generation.
Getting subscribers on your email list allows you to communicate with them for months and years as they look to you for guidance and recommendations.
Generating leads for any niche generally requires the same steps. Each step will provide you with a new opportunity to grow your audience and business to its fullest potential.
Your Email List is your most Valuable Asset
Let's get started with day 14 of my 30-step plan for lead generation that can help you build a substantial email list of niche followers.
Step 15: Offer a Low Content Freebie on Your Site
If you've noticed that people are viewing your website, but aren't always taking the next step and making a purchase or even signing up to your list, you may need to create some extra incentive with a sneak peek of the value you offer.
Offering low content as an example of your work is a great way to show that you appreciate potential customers and want them to trust that your work is satisfactory.
For example, if you are in the baking niche, you could offer a free downloadable file of a beginner recipe that you've created or a meal planner page they can download as a freebie and use that very week.
A marketer: Your Best Graphic design
A Speaker: One of your best 5 minute segments
A Writer: One of your best articles.
A Graphic Designer: One of your best logos.
The possibilities are endless!!!
Once consumers realize that they can trust and appreciate your work, they are more likely to take that dive into signing up to your list.
Also, see my P.S. line below for a GREAT source of high-value giveaways.
This is also an easy way to convince someone to buy your products without creating a large amount of social media content.
Any questions?
Hit me up.
I'm here to help.
When you combine the above, $10,000/mo is not far off!
(p.s.  Just added a new lead source there that is HOT.  Check it out!)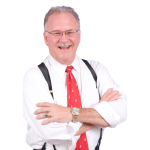 Fred "The Submarine Guy" Raley
Fred@SubmarineGuy.com
http://www.TrafficLeadsNSales.com
P.S.  Giving away bonuses is how all the successful marketers see success.  Want to get in that game?  Pick up your weekly bonuses at $5Friday.  From there, scroll down to the purple Weekly Bonuses graphic, click it,  and grab all you want!  The more bonuses you have, the more you will make.  These are all FREE.
P.P.S.  Check out my special Bonus Page to see what I am offering for FREE.
P.P.S.  Did you miss any previous Lead Generation Lessons?  Get them HERE!
💯Copy Success!  It works!💯