Fred's 30 Day Lead Generating Process
The  most important ongoing task you'll be doing as an internet marketer that will explode your income is lead generation.
Getting subscribers on your email list allows you to communicate with them for months and years as they look to you for guidance and recommendations.
Generating leads for any niche generally requires the same steps. Each step will provide you with a new opportunity to grow your audience and business to its fullest potential.
Your Email List is your most Valuable Asset
Let's get started with day 13 of my 30-step plan for lead generation that can help you build a substantial email list of niche followers.
Step 13: Use Pinterest to Drive Traffic
Pinterest, like Facebook, has almost every topic you could think of available somewhere in their content.
You can pin almost anything to Pinterest, making it more accessible than some social media platforms and this can help you drive traffic to your lead magnet page.
Pinterest is focused on aesthetics and design above all else. Many people use Pinterest to get inspired and find helpful information for their own personal projects.
They "pin" things they're interested in to their personal or public boards where others can also save and share them.
In order to create visually pleasing pins or boards for Pinterest, you can use online tools like Canva to spice up your content.
You want to create media that catches a viewer's eye and draws them to your opt in page.
You will also want to include other people's pins on your boards so that you can drive an audience that has already pinned that post for themselves.
Many marketers share and cross promote one another's content to help everyone enjoy the organic traffic from this site.
Pinterest takes a while to learn so I recommend you not tackle it as a first lead source.
Once you have leads coming in from other sources on a consistent basis, you can spare some time to learn how to pull leads out of Pinterest and onto your email list.
Any questions?
Hit me up.
I'm here to help.
When you combine the above, $10,000/mo is not far off!
(p.s.  Just added a new lead source there that is HOT.  Check it out!)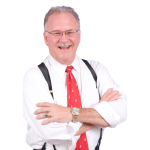 Fred "The Submarine Guy" Raley
Fred@SubmarineGuy.com
http://www.TrafficLeadsNSales.com
P.S.  Giving away bonuses is how all the successful marketers see success.  Want to get in that game?  Pick up your weekly bonuses at $5Friday.  From there, scroll down to the purple Weekly Bonuses graphic, click it,  and grab all you want!  The more bonuses you have, the more you will make.  These are all FREE.
P.P.S.  Check out my special Bonus Page to see what I am offering for FREE.
P.P.S.  Did you miss any previous Lead Generation Lessons?  Get them HERE!
💯Copy Success!  It works!💯