Why grow your business SLOW?
Why not grow FAST?
Get daily sales.
Get multiple daily sales.
Have lots of things for sale.
We are trained in this online business to "Concentrate on one thing and build it big" or words to that effect.
And that's not ALL bad.
I mean do spend some time on what you are gonna sell.
Get some assets in place to get Traffic, Leads and Sales going.
And then add to it.
That's the best way to get to a big income faster.
Keep adding products.
Keep track on your blog.
Keep building your list (how many times have you heard that?)
and make a blogpost about each of your products.
And link them from your $10K Business Strategy page.
And as you build your list, email them about each of your blogposts.
People don't like long emails.
Give them a long blogpost.
Give them a video to watch.
Give them an audio to listen to.
Give them a good business tip.
Help them in their business.
As you find what sells and what doesn't, you can change your business strategy.
But you don't have to just dump it all.  Just dump the bad apple (or sell it better if that's the need)
and move on, driving ever more traffic to your blog from your email list.
and keep building your list.
Make sense?
Questions?  I'm just an email away!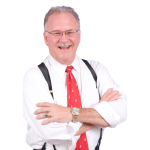 Fred "The Submarine Guy" Raley
Fred@SubmarineGuy.com
http://www.TrafficLeadsNSales.com
p.s.  This goes perfectly with your $10,000 Blog Income Plan.
p.p.s.  I'll even send you my import code for the LCP I used to get YOU.
Copy Success!  It works!