Fred's 30 Day Lead Generating Process
The  most important ongoing task you'll be doing as an internet marketer that will explode your income is lead generation.
Getting subscribers on your email list allows you to communicate with them for months and years as they look to you for guidance and recommendations.
Generating leads for any niche generally requires the same steps. Each step will provide you with a new opportunity to grow your audience and business to its fullest potential.
💯Your Email List is your most Valuable Asset💯
Let's get started with day 17 of my 30-step plan for lead generation.
Step 21

: Need more leads? Ask for Comments, Questions, Ratings & Reviews
What other people have to say about you and your business matters more than almost anything else when you're trying to build a list.
Because it can haunt you if it's negative and be a boon to your business if it's positive.
People often Google to see what you're all about before handing over their information.
People trust other people, especially when they are both consumers.
It's hard to trust people, especially when they don't have reliable referrals or a popular brand name backing them.
When consumers can see an array of positive testimonials, they will know that this is a marketer they can count on.
Every review and rating you get should be sincere and real.
You want to earn those positive reviews so that you aren't leading anyone on with false assurances.
Lesson: ASK for comments, reviews, questions, & ratings.
This will generate more interest, show you as a real person and get folks to KNOW you better as you engage their inputs.
Ask Often…
Any questions?
Hit me up.
I'm here to help.
When you combine the above, $10,000/mo is not far off!
(p.s.  Just added a new lead source there that is HOT.  Check it out!)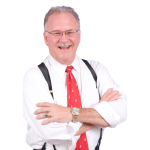 Fred "The Submarine Guy" Raley
Fred@SubmarineGuy.com
http://www.TrafficLeadsNSales.com
P.S.  Giving away bonuses is how all the successful marketers see success.  Want to get in that game?  Pick up your weekly bonuses at $5Friday.  From there, scroll down to the purple Weekly Bonuses graphic, click it,  and grab all you want!  The more bonuses you have, the more you will make.  These are all FREE.
P.P.S.  Check out my special Bonus Page to see what I am offering for FREE.
P.P.S.  Did you miss any previous Lead Generation Lessons?  Get them HERE!
💯Copy Success!  It works!💯