Fred's 30 Day Lead Generating Process
The  most important ongoing task you'll be doing as an internet marketer that will explode your income is lead generation.
Getting subscribers on your email list allows you to communicate with them for months and years as they look to you for guidance and recommendations.
Generating leads for any niche generally requires the same steps. Each step will provide you with a new opportunity to grow your audience and business to its fullest potential.
💯Your Email List is your most Valuable Asset💯
Let's get started with day 17 of my 30-step plan for lead generation.
Step 20

: Experiment With Exclusivity Such as Syndication
Everyone wants to be a part of something special.
When you are able to create a community with your social media or contact list that appears to be more of a fun group, it will attract more people.
You can begin to offer exclusive content to those who are loyal subscribers.
Once of the things I like to teach that is not well known, is syndication.
What syndication is all about is taking one piece of content and using it in multiple locations.
This gets YOU spread out across multiple contact platforms (email, web contact list, sms, etc.) as well as social media outlets which you can post to.
Now , if you are not a writer, don't think this doesn't apply to you.  You can get good articles as Private Label Rights (PLR) and turn them into your own as author.  Some are free… these many times are not the best.  But many good articles that can provide a good base for your work are in the $5 to $20 per article.
I took one $30 article and turned it into 30 DIFFERENT articles by expanding each segment from my own experience or research that I had done after reading the PLR.
So you can publish articles on your blog (like I'm doing here) and
Information syndication can help you multiple your marketing results using automated tools to put your information out in different forums automatically.
When other people see the offer of unique content on your site, they will be interested in becoming a part of your list.
Having to sign up to get a specific password to access something others can't access makes people feel included, which is something many people are drawn to.
The fear of missing out (FOMO) on something that could benefit them is a strong pull for many individuals.
Any questions?
Hit me up.
I'm here to help.
When you combine the above, $10,000/mo is not far off!
(p.s.  Just added a new lead source there that is HOT.  Check it out!)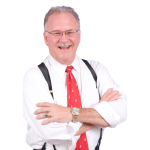 Fred "The Submarine Guy" Raley
Fred@SubmarineGuy.com
http://www.TrafficLeadsNSales.com
P.S.  Giving away bonuses is how all the successful marketers see success.  Want to get in that game?  Pick up your weekly bonuses at $5Friday.  From there, scroll down to the purple Weekly Bonuses graphic, click it,  and grab all you want!  The more bonuses you have, the more you will make.  These are all FREE.
P.P.S.  Check out my special Bonus Page to see what I am offering for FREE.
P.P.S.  Did you miss any previous Lead Generation Lessons?  Get them HERE!
💯Copy Success!  It works!💯