Fred's 30 Day Lead Generating Process
The  most important ongoing task you'll be doing as an internet marketer that will explode your income is lead generation.
Getting subscribers on your email list allows you to communicate with them for months and years as they look to you for guidance and recommendations.
Generating leads for any niche generally requires the same steps. Each step will provide you with a new opportunity to grow your audience and business to its fullest potential.
💯Your Email List is your most Valuable Asset💯
Let's get started with day 17 of my 30-step plan for lead generation.
Step 19

: Get More Leads as an Independent Author
Writing an eBook that covers information on your niche topic is a great way to show people that you know what you are talking about.
If you can fill a whole book with useful information and tips, you will probably be more trusted by anyone who reads your book.
As long as you've put in the time and research, you will be able to provide a solid book that will lead readers straight to your sign up page.
Starting with PLR on your topic is a good idea.
You can see what others have to say about your niche and learn as you go.
Then, take those ideas, update and expand on them in your own way…
… and POOF, you have your own book
Start with a few well known topics…
Expand from there.
Once you have ten topics or so, create an outline of those subject lines. Make them enticing in and of themselves.
Now, for each topic, think of 3 things you can teach about each topic.
Each of those 3 things become paragraphs of 35 words or so.
10 topics times 3 sentences each times 35 words per sentence is an eBook of just over one thousand words.
You can publish your work on Amazon as an eBook, so that people can just download the book on their Kindle in order to read it.
This is a low cost way to push information out into the book universe.
And if enough people like your work, you can continue writing articles, books and printable tools while branching out to other topics that may be of interest.
The more you write and get your publications out, the more leads you will get on your email list…
And you know what that means!
Any questions?
Hit me up.
I'm here to help.
When you combine the above, $10,000/mo is not far off!
(p.s.  Just added a new lead source there that is HOT.  Check it out!)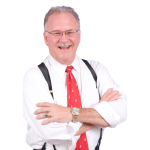 Fred "The Submarine Guy" Raley
Fred@SubmarineGuy.com
http://www.TrafficLeadsNSales.com
P.S.  Giving away bonuses is how all the successful marketers see success.  Want to get in that game?  Pick up your weekly bonuses at $5Friday.  From there, scroll down to the purple Weekly Bonuses graphic, click it,  and grab all you want!  The more bonuses you have, the more you will make.  These are all FREE.
P.P.S.  Check out my special Bonus Page to see what I am offering for FREE.
P.P.S.  Did you miss any previous Lead Generation Lessons?  Get them HERE!
💯Copy Success!  It works!💯