Fred's 30-Part Checklist for Your Email Marketing Profits Explosion
As an online entrepreneur, you'll be thrilled when you start getting new subscribers on your list. Your lead magnet has converted and you now have people waiting for you to guide them on their journey.
When you treat your list right, the return on your investment and the long-term earnings you'll enjoy will be significant, in many ways surpassing what you would get from paid ads or organic traffic because these individuals have willingly opted to follow you consistently.
Put these into effect in YOUR email marketing campaign and watch your profits GROW.
#3 – How Often Should You Email Your List
One thing that will help you maximize your profits when you are email marketing is to learn the best timing for your emails to go out. This doesn't just include the time of the day, which is usually between 8:00 AM and 11:00 AM Eastern Time.
It also includes the frequency with which you communicate with your new subscribers. Many people are intimidated at the thought of sending out emails because they don't want to be viewed as a spammer.
You already have a responsibility to not abuse the name and contact email for this person. At the same time, they signed up so that you could help guide them in their journey.
If you are not communicating with them on a regular basis, someone else will be and your competitor will be the one who reaps the financial rewards due to your lack of confidence in reaching out to your subscribers.
If you fail to communicate on a regular basis with them, they will forget who you are. Then, whenever you do decide to email them, they will wonder why you are spamming their inbox and how you got their name and email address.
Communicating with them frequently allows them to form a better bond with you, in addition to name recognition that helps build trust. This trust and loyalty goes a long way in lowering their reservations about purchasing through your link.
You have to find the right frequency that works for your list. There will never be an exact number of days between emails that works for every person on your list. Some will become antsy if you don't email everyday, and others will complain if you do.
You need to do what works best for you, as well as the bulk of your subscribers. If you have valuable insight to share with your list everyday, and you don't mind researching innovative tips and advice on a regular basis, you can email daily and even monetize your emails daily.
Or, you might be the kind of marketer who communicates once or twice a week with your list. If you can create a memorable impact on them with this infrequent email pattern, it can also be effective, but you have to see how they view your communications and whether or not they feel a connection to you.
Any questions?
Hit me up.
I'm here to help.
Check out my $10,000/mo blogpost!
p.s.  Just added a new lead source there that is HOT.  Check it out! 6,000 clicks per month!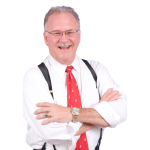 Fred "The Submarine Guy" Raley
Fred@SubmarineGuy.com
http://www.TrafficLeadsNSales.com
P.P.S.  Giving away bonuses is how all the successful marketers see success.  Want to get in that game?  Pick up your weekly bonuses at $5Friday.  From there, scroll down to the purple Weekly Bonuses graphic, click it,  and grab all you want!  The more bonuses you have, the more you will make.  These are all FREE.
P.P.S.  Check out my special Bonus Page to see what I am offering for FREE.
P.P.S.  Did you miss any previous Lead Generation Lessons?  Get them HERE!
💯Copy Success!  It works!💯