Fred's 30-Part Checklist for Your Email Marketing Profits Explosion
As an online entrepreneur, you'll be thrilled when you start getting new subscribers on your list. Your lead magnet has converted and you now have people waiting for you to guide them on their journey.
When you treat your list right, the return on your investment and the long-term earnings you'll enjoy will be significant, in many ways surpassing what you would get from paid ads or organic traffic because these individuals have willingly opted to follow you consistently.
Put these into effect in YOUR email marketing campaign and watch your profits GROW.
#2 – Free Up Your Time for Profit Generating Tasks – Automate Your Emails
Another thing you want to do in terms of increasing your profit potential through email marketing is to take full advantage of automating your emails. There are several things in your Internet marketing business that you will be able to queue up ahead of time.
For example, you can queue up your blog posts so that they publish and go live on a certain date and time if you are using WordPress. You can do the same with your email autoresponder system.
Automating your emails is a great way to increase your email marketing profits.  It literally becomes "making money while you are asleep;" one of Warren Buffet's favorite quotes.
Some people set up ongoing campaigns that will drip feed emails on a certain time frame systems, such as every other day. In order to do this, you have to make sure that every email you send out is evergreen and won't pose any danger of becoming outdated.
It's hard to manage when you are trying to monetize your emails because you never know when a certain course or tool will become inactive and your links will no longer be promoting an active listing.
Instead, you may want to rely on broadcast emails, that allow you to queue up your communications ahead of time, without them being permanent for future subscribers. When you have a follow up campaign, every new person who signs up to your list will receive the same set of emails.
With a broadcast email, only the people who are on your list on that day will be receiving the communication you send out. You can automate your broadcast emails to be sent out for you on a schedule that works best for your needs.
This is beneficial because if you want to focus on product creation, or writing product reviews for your blog, you will have your emails working for you every morning without you having to log in and manually do it each and every day.
You might want to pick one day of the week where you get all of your emails for the week ready to go out. This is helpful when you are an affiliate because the vendor may give you a recommended email swipe and sequence of when to send them out based on his best practices.
Of course, you will know your list response better than anyone so feel free to change the vendors sequence or time of day or any other "when to send" advice based on knowledge of your list.
Any questions?
Hit me up.
I'm here to help.
Check out my $10,000/mo blogpost!
p.s.  Just added a new lead source there that is HOT.  Check it out! 6,000 clicks per month!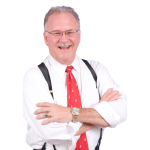 Fred "The Submarine Guy" Raley
Fred@SubmarineGuy.com
http://www.TrafficLeadsNSales.com
P.P.S.  Giving away bonuses is how all the successful marketers see success.  Want to get in that game?  Pick up your weekly bonuses at $5Friday.  From there, scroll down to the purple Weekly Bonuses graphic, click it,  and grab all you want!  The more bonuses you have, the more you will make.  These are all FREE.
P.P.S.  Check out my special Bonus Page to see what I am offering for FREE.
P.P.S.  Did you miss any previous Lead Generation Lessons?  Get them HERE!
💯Copy Success!  It works!💯