Fred's 30-Part Checklist for Your Email Marketing Profits Explosion
As an online entrepreneur, you'll be thrilled when you start getting new subscribers on your list. Your lead magnet has converted and you now have people waiting for you to guide them on their journey.
Your focus may have been on traffic generation to build your list, but you now have to think about how you can serve these individuals in a way that helps them achieve their goals or eliminate (or manage) a problem in their life.
When you can help your subscribers, they will in turn be loyal to you and purchase the products and tools they need through your links. These articles are part of a 30-part checklist that helps you discover what you should do (and not do) in order to monetize your list for years to come.
When you treat your list right, the return on your investment and the long-term earnings you'll enjoy will be significant, in many ways surpassing what you would get from paid ads or organic traffic because these individuals have willingly opted to follow you consistently.
Put these into effect in YOUR email marketing campaign and watch your profits GROW.
#1 – Continually Tweak Your Welcome Email to Earn for You
The welcome email is where you greet your new subscribers, and deliver the free lead magnet gifts that you promised them upon sign up.  Many marketers set this up and then forget about it for years to come.
You will have a higher readership of your Welcome email than most any other email you ever send.  That's why it's good to get the most out of it.  Even as much as making a sale, even if it is a small one.
You want to periodically revisit your welcome email so that it is performing well for you in terms of monetization. Yes, this is an email where a free gift is given to the subscriber.
But as long as it holds value, there's no reason why you can't also monetize the initial email that is sent out to your list. Keep in mind that there are many people who will sign up for a freebie, only to unsubscribe seconds later because they want to keep their inbox clean.
So this may be your only opportunity to monetize that communication with certain people. There are different ways you can do this. First and foremost, you want to make sure that your email is always up to date and not delivering any outdated information.
For example, if your lead magnet report was about Squidoo or Myspace, it would obviously show that you have not updated your welcome email in quite awhile. (note for younger readers:  those two went out of business quite some time ago)  Secondly, you want to make sure that you are monetizing the information within your lead magnet.
For example, if you are giving away a free report about list building, you can monetize that report inside with your affiliate links to tools like AWeber, GetResponse and Mail Chimp.
Another thing you can do with your welcome email is to give your new subscribers a coupon that will work for their very first purchase if you have a store that sells multiple items.
For example, if you sell private label rights (PLR) content, you might have a store wide coupon that new subscribers can use on their entire cart at checkout. Although you are monetizing the email, it comes across as a perk for being a new subscriber.
Any questions?
Hit me up.
I'm here to help.
Check out my $10,000/mo blogpost!
p.s.  Just added a new lead source there that is HOT.  Check it out! 6,000 clicks per month!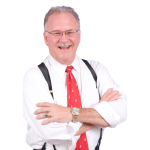 Fred "The Submarine Guy" Raley
Fred@SubmarineGuy.com
http://www.TrafficLeadsNSales.com
P.P.S.  Giving away bonuses is how all the successful marketers see success.  Want to get in that game?  Pick up your weekly bonuses at $5Friday.  From there, scroll down to the purple Weekly Bonuses graphic, click it,  and grab all you want!  The more bonuses you have, the more you will make.  These are all FREE.
P.P.S.  Check out my special Bonus Page to see what I am offering for FREE.
P.P.S.  Did you miss any previous Lead Generation Lessons?  Get them HERE!
💯Copy Success!  It works!💯