Fred's 30 Day Lead Generating Process
The  most important ongoing task you'll be doing as an internet marketer that will explode your income is lead generation.
Getting subscribers on your email list allows you to communicate with them for months and years as they look to you for guidance and recommendations.
Generating leads for any niche generally requires the same steps. Each step will provide you with a new opportunity to grow your audience and business to its fullest potential.
Let's get started with day 8 of my 30-step plan for lead generation that can help you build a substantial email list of niche followers.
Step 8: See What Resonates with Your Audience
When you create multiple versions of your content and put them both out there to see what works the best, you are split testing. As you are getting started, many of your ideas won't perform well at first, but that shouldn't keep you from carrying on with your split testing.
Instead of giving up, you can make minor changes to your ideas in order to determine what is causing things to perform poorly. It's good to switch out different elements so that you can understand which business practices are the most successful with your target audience.
These things could be as simple as colors, fonts, and length of text used on your website or changing up entire lead magnet reports to have a new slant or focus. You can tweak things with different ideas until you find the right fit.
Split testing early on in your startup process will save you a lot of time. You can find out what ideas work best, so that you aren't stuck wondering what you need to fix to gain a higher conversion rate.
One small change can be enough to completely transform your results, so try to keep each test simple. This will help you identify the culprit without you accidentally changing the wrong thing, and ending up with even worse results.
Here's a link to a video I did explaining how I changed a headline for a 3 way split test: https://youtu.be/BJkI664QBGo
Any questions?
Hit me up.
I'm here to help.
When you combine the above, $10,000/mo is not far off!
(p.s.  Just added a new lead source there that is HOT.  Check it out!)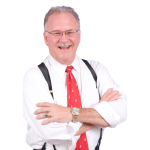 Fred "The Submarine Guy" Raley
Fred@SubmarineGuy.com
http://www.TrafficLeadsNSales.com
P.S.  Giving away bonuses is how all the successful marketers see success.  Want to get in that game?  Pick up your weekly bonuses at $5Friday.  From there, scroll down to the purple Weekly Bonuses graphic, click it,  and grab all you want!  The more bonuses you have, the more you will make.  These are all FREE.
P.P.S.  Check out my special Bonus Page to see what I am offering for FREE.
P.P.S.  Did you miss any previous Lead Generation Lessons?  Get them HERE!
💯Copy Success!  It works!💯