Fred's 30 Day Lead Generating Process
As an online entrepreneur, one of the most effective ongoing tasks you'll undertake that will contribute to your income growth is lead generation. Getting subscribers on your email list allows you to communicate with them for months and years as they look to you for guidance, training, knowledge and recommendations.
Generating leads for any niche generally requires the same steps. Each one will provide you with new opportunities to grow your audience and business to its fullest potential. Below, you'll find a Step 3 of my 30-day plan for lead generation that can help you build a substantial list of niche followers.
Day 7: Generate Leads Every Day With Networking
You may not see results the day after you put forth extra effort to generate leads. That is why it is essential to keep at it and try to generate leads every single day that you are working.
One of the simplest ways to generate leads daily is to network. Talking to one different person each day could provide amazing opportunities. You never know what someone may have to offer you and your business – even if it's as simple as a public shoutout that lets their followers become aware of you.
When you increase your connections, you are also gaining the possibility of adding their connections as well. It doesn't hurt to talk to as many people as you can. This could produce new opportunities, and broaden your perspectives on business as well.
One of the best ways to add new prospects onto your list is to hit one of their "pain points" to solve a problem for them.
Online marketers are all interested in more Traffic, Leads and Sales.
Offers in this category are universal and gain the widest acceptance.
Even if your main business is not in this category, consider adding a side business(es) to offer Traffic, Leads or Sales help to get folks on your list.
Ex:  http://www.TrafficLeadsNSales.com or http://www.FastEmailProfits.com
One of the best ways to learn about new tactics and trends is to socialize with the people creating them. When you engage with other entrepreneurs, you are supporting their business, which may lead to their support in return.
Any questions?
Hit me up.
I'm here to help.
When you combine the above, $10,000/mo is not far off! (p.s.  Just added a new lead source there that is HOT.  Check it out!)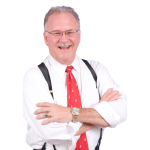 Fred "The Submarine Guy" Raley
Fred@SubmarineGuy.com
http://www.TrafficLeadsNSales.com
P.S.  Giving away bonuses is how all the successful marketers see success.  Want to get in that game?  Pick up your weekly bonuses at $5Friday.  From there, scroll down to the purple Weekly Bonuses graphic, click it,  and grab all you want!  The more bonuses you have, the more you will make.  These are all FREE.
P.P.S.  Check out my special Bonus Page to see what I am offering for FREE.
P.P.S.  Did you miss any previous Lead Generation Lessons?  Get them HERE!
💯Copy Success!  It works!💯