Fred's 30 Day Lead Generating Process
The  most important ongoing task you'll be doing as an internet marketer that will explode your income is lead generation.
Getting subscribers on your email list allows you to communicate with them for months and years as they look to you for guidance and recommendations.
Generating leads for any niche generally requires the same steps. Each step will provide you with a new opportunity to grow your audience and business to its fullest potential.
Let's get started with day 8 of my 30-step plan for lead generation that can help you build a substantial email list of niche followers.
Step 9: Create Content on YouTube
YouTube enables viewers to see a video of the topic they want to search for, so it is often a top choice when it comes to search engines and can help you build a list.  Videos can be much more helpful for visual learners rather than just reading about a topic.
You can use YouTube to post helpful content relating to your business that will help you gain a viewer's trust.
As mentioned before, building trust with your prospects leads to more sales for you.
YouTube also let's you put YOU on the screen. This helps your prospects get to know you and, hopefully LIKE you!
If you are get those positive Know, Like & Trust factors going for you, they will sign up to your email list.
You can use your YouTube videos for other social media as well.
Each one can serve as a content piece with a call to action to sign up to your email list.
You can then take the audio from your video and create a podcast.
➡️ My Syndication: PLR, Blog, Presentation, Video, Audio, Podcast, Email
The longer the video, the better it will do as a podcast.  This will be for some of your key content.
Short videos do good also.  Think of TicTok & YouTube Shorts.  The trend is to short videos.  Most of mine are in the 5 minute range.
You can use the whole video and include it on your blog.  YouTube gives you the embed code to copy/paste into your blog.
You can even take the YouTube transcript and rewrite it as its own blog post.
When posting YouTube videos, it's important to make sure that you use the correct keywords in your title and description.
YouTube allows you to include links to your own lead magnet page and social media pages in each video. There are no strict rules when it comes to this, so you can include as many different links as you would like, but by driving all traffic to your opt in page, you'll increase the odds of gaining a new subscriber.
Any questions?
Hit me up.
I'm here to help.
When you combine the above, $10,000/mo is not far off!
(p.s.  Just added a new lead source there that is HOT.  Check it out!)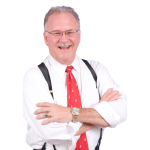 Fred "The Submarine Guy" Raley
Fred@SubmarineGuy.com
http://www.TrafficLeadsNSales.com
P.S.  Giving away bonuses is how all the successful marketers see success.  Want to get in that game?  Pick up your weekly bonuses at $5Friday.  From there, scroll down to the purple Weekly Bonuses graphic, click it,  and grab all you want!  The more bonuses you have, the more you will make.  These are all FREE.
P.P.S.  Check out my special Bonus Page to see what I am offering for FREE.
P.P.S.  Did you miss any previous Lead Generation Lessons?  Get them HERE!
💯Copy Success!  It works!💯