Fred's 30 Day Lead Generating Process
As an online entrepreneur, one of the most effective ongoing tasks you'll undertake that will contribute to your income growth is lead generation. Getting subscribers on your email list allows you to communicate with them for months and years as they look to you for guidance, training, knowledge and recommendations.
Generating leads for any niche generally requires the same steps. Each one will provide you with new opportunities to grow your audience and business to its fullest potential. Below, you'll find a Step 3 of my 30-day plan for lead generation that can help you build a substantial list of niche followers.
Day 4: Utilize Successful Keywords for Your Niche
One of the best ways to succeed in search results and build your list is to research the keywords that people are using in your targeted niche. It's important to understand how your target audience searches, so that you can decide what content to push out.
You can find paid or free tools that will create lists of popular keywords for you that fit in with your brand's niche. Once you've compiled a list of the best keywords to use (a list you should try to update frequently), you can begin to place those keywords throughout your content and titles.
These can be used in posts in sentences, tags, and headings. These keywords will help drive your target audience to your content, since search engines will be able to use the keywords to understand what kind of content you create.
Don't over-do it though.  Keywords are important.  But use them in context and try to weave them into your normal writing.  Don't use them in more than one sentence per paragraph.  Over-use of keywords will have a negative effect on your Google rating as Google will see it as trying to "game" the system so to speak.
Any questions?
Hit me up.
I'm here to help.
When you combine the above, $10,000/mo is not far off! (p.s.  Just added a new lead source there that is HOT.  Check it out!)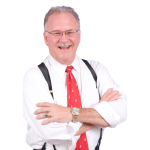 Fred "The Submarine Guy" Raley
Fred@SubmarineGuy.com
http://www.TrafficLeadsNSales.com
P.S.  Giving away bonuses is how all the successful marketers see success.  Want to get in that game?  Pick up your weekly bonuses at $5Friday.  From there, scroll down to the purple Weekly Bonuses graphic, click it,  and grab all you want!  The more bonuses you have, the more you will make.  These are all FREE.
P.P.S.  Check out my special Bonus Page to see what I am offering for FREE.
P.P.S.  Did you miss any previous Lead Generation Lessons?  Get them HERE!
Copy Success!  It works!