Fred's 30-Part Checklist for Your Email Marketing Profits Explosion
As an online entrepreneur, you'll be thrilled when you start getting new subscribers on your list. Your lead magnet has converted and you now have people waiting for you to guide them on their journey.
When you treat your list right, the return on your investment and the long-term earnings you'll enjoy will be significant, in many ways surpassing what you would get from paid ads or organic traffic because these individuals have willingly opted to follow you consistently.
Put these into effect in YOUR email marketing campaign and watch your profits GROW.
#5 – Segment Your List for Tailored Offers for maximum profits
Segmenting your list is a method of separating subscribers into different groups so that you can tailor your communications with them in a way that helps you target their needs.
Remember the quote: "Join the conversation in your prospects mind" ?
Every email auto responder system has a different way of segmenting list.
If you are using a tool like AWeber, you can log in to your dashboard and choose the Subscribers option.
For example, you can segment them according to who opened a particular message from you.
If you had a title about a certain topic and you have a segment of your list that opened that email, it shows interest in that topic.
You can even add multiple segment criteria by simply clicking on the + sign.
So if you wanted to not only segment people who opened the email, but also those who clicked on the link inside comma you could create a list of just those individuals.
Once you get the results of the subscribers that meet whatever criteria you have selected, you can save that search result as a segment of subscribers.
Then, whenever you are logging in to send out an email to your list, you can see the saved segments that you have created under the "Who should receive this message?" section and send it to just those individuals.
So, for example, if you are in the Internet marketing niche, and you have promoted courses for senior online entrepreneurs in the past, you can segment people who opened that particular message and clicked on the link so that you can send just that segment of senior marketers additional products that specifically meet their needs.
Segments are used to keep track of your subscriber preferences so you can target your communications and offers to them to

maximize profits

.
Make sense?
Any questions?
Hit me up.
I'm here to help.
Check out my $10,000/mo blogpost!
p.s.  Just added a new lead source there that is HOT.  Check it out! 6,000 clicks per month!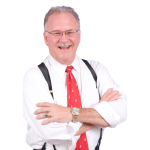 Fred "The Submarine Guy" Raley
Fred@SubmarineGuy.com
http://www.TrafficLeadsNSales.com
P.P.S.  Giving away bonuses is how all the successful marketers see success.  Want to get in that game?  Pick up your weekly bonuses at $5Friday.  From there, scroll down to the purple Weekly Bonuses graphic, click it,  and grab all you want!  The more bonuses you have, the more you will make.  These are all FREE.
P.P.S.  Check out my special Bonus Page to see what I am offering for FREE.
P.P.S.  Did you miss any previous Lead Generation Lessons?  Get them HERE!
💯Copy Success!  It works!💯