Fred's 30 Day Lead Generating Process
The  most important ongoing task you'll be doing as an internet marketer that will explode your income is lead generation.
Getting subscribers on your email list allows you to communicate with them for months and years as they look to you for guidance and recommendations.
Generating leads for any niche generally requires the same steps. Each step will provide you with a new opportunity to grow your audience and business to its fullest potential.
💯Your Email List is your most Valuable Asset💯
Let's get started with day 29 of my 30-step plan for lead generation.
Step 29:

Write a Periodic EMail Newsletter

Newsletters are a great way to keep people updated on their niche news.
Traditionally, a newsletter has a variety of content – from trends and new information to helpful hints, opinion pieces, recommendations and more.
Keep a good mix of helpful advice & tips versus pure marketing & sales.
80% of helpful tips and advice with the 20% of the remainder being sales materials.
Of course, if your CTA is to go to another of your marketing sites (YouTube, Your Blog, etc) which might have sales material on it, that is fine.
This will encourage people to subscribe, so that they can look forward to your periodic newsletter.
Some marketers even send one out daily – you have to know what the needs of your audience are so that you can meet them.
Make sure you keep a planning calendar of upcoming emails.
Also, use syndication to expand the scope of your newsletter into other mediums.
And don't forget to put a clear, precise CTA (Call to Action) in each email.  That's where the money is…
Any questions?
Hit me up.
I'm here to help.
When you combine the above, $10,000/mo is not far off!
(p.s.  Just added a new lead source there that is HOT.  Check it out!) 6,000 clicks per month!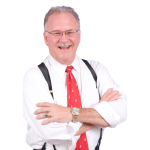 Fred "The Submarine Guy" Raley
Fred@SubmarineGuy.com
http://www.TrafficLeadsNSales.com
P.S.  Giving away bonuses is how all the successful marketers see success.  Want to get in that game?  Pick up your weekly bonuses at $5Friday.  From there, scroll down to the purple Weekly Bonuses graphic, click it,  and grab all you want!  The more bonuses you have, the more you will make.  These are all FREE.
P.P.S.  Check out my special Bonus Page to see what I am offering for FREE.
P.P.S.  Did you miss any previous Lead Generation Lessons?  Get them HERE!
💯Copy Success!  It works!💯