Fred's 30 Day Lead Generating Process
The  most important ongoing task you'll be doing as an internet marketer that will explode your income is lead generation.
Getting subscribers on your email list allows you to communicate with them for months and years as they look to you for guidance and recommendations.
Generating leads for any niche generally requires the same steps. Each step will provide you with a new opportunity to grow your audience and business to its fullest potential.
💯Your Email List is your most Valuable Asset💯
Let's get started with day 24 of my 30-step plan for lead generation.
Step 24

: Plan a Giveaway or Special Sale to Attract Subscribers

Sometimes, people just need an extra incentive to make a sign up.
And receiving even more free items is a great way to attract a larger crowd.
It's only human to love the idea of free products or services.
When you host a giveaway event, you can invite your competitors to participate and help each of you grow your lists.
Not only will participants have their free offer and link showcased on the giveaway even page, but every person who joins can share your giveaway post to their stories or social feeds.
With a special sale, whenever you create a product offer, you can offer an additional discount code that you only get once you sign up for your email list.
Make sure this is a limited time offer to encourage quick signups on your lead capture page.  This is called the "Fear of Missing Out" or FOMO in sales parlance.
You can just select a certain percentage discount they get whenever they buy other products at your store.
In order to have a successful giveaway, you need to tease the idea early on (and often.)
This way, prospective subscribers can get excited and anticipate the giveaway event.
Be sure to give them a sneak peek at who all will be participating and what types of freebies they can expect.
These GiveAway "events" where you invite others are an advanced technique.
I'd recommend you keep this in mind for a future venture once you get your business going strong.
Any questions?
Hit me up.
I'm here to help.
When you combine the above, $10,000/mo is not far off!
(p.s.  Just added a new lead source there that is HOT.  Check it out!)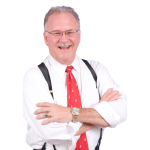 Fred "The Submarine Guy" Raley
Fred@SubmarineGuy.com
http://www.TrafficLeadsNSales.com
P.S.  Giving away bonuses is how all the successful marketers see success.  Want to get in that game?  Pick up your weekly bonuses at $5Friday.  From there, scroll down to the purple Weekly Bonuses graphic, click it,  and grab all you want!  The more bonuses you have, the more you will make.  These are all FREE.
P.P.S.  Check out my special Bonus Page to see what I am offering for FREE.
P.P.S.  Did you miss any previous Lead Generation Lessons?  Get them HERE!
💯Copy Success!  It works!💯