Fred's 30 Day Lead Generating Process
The  most important ongoing task you'll be doing as an internet marketer that will explode your income is lead generation.
Getting subscribers on your email list allows you to communicate with them for months and years as they look to you for guidance and recommendations.
Generating leads for any niche generally requires the same steps. Each step will provide you with a new opportunity to grow your audience and business to its fullest potential.
Your Email List is your most Valuable Asset
Let's get started with day 8 of my 30-step plan for lead generation that can help you build a substantial email list of niche followers.
Step 11: Plan a Live Event to Demonstrate Your Expertise
Some people will have questions about who you are and what kind of business you run.
There are always questions about products and courses you may be selling, and how effective they are.
A "Live" Event puts you on stage!
It grows your "Know, Like & Trust" factors.
You can host a live stream webinar, allowing viewers to get their questions answered.
You can talk about various topics that will help your people for free.
You should record your "Live" of course to make it available as one of your free offerings.
Always deliver a call to action at the end for them to download your free gift by signing up on your email list.
Allow your personality to shine through in live streams like this, so that it doesn't seem like you are just pushing sales.
When you show off your personal and genuine approach, you'll convince people that signing up to your email list is a good idea.
With live streams, you are able to directly communicate with your audience.
Instead of just pushing out content that no one asked for, you will be directly answering viewers' questions and allow them to get more comfortable with you.
Have a survey included at the end of the "Live" for those who attended your recorded "Live" webinar (but who may not have signed up yet) and use those demographics to create profiles of the types of people you can target to generate more leads and determine your identify target audience.
Any questions?
Hit me up.
I'm here to help.
When you combine the above, $10,000/mo is not far off!
(p.s.  Just added a new lead source there that is HOT.  Check it out!)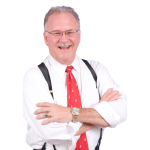 Fred "The Submarine Guy" Raley
Fred@SubmarineGuy.com
http://www.TrafficLeadsNSales.com
P.S.  Giving away bonuses is how all the successful marketers see success.  Want to get in that game?  Pick up your weekly bonuses at $5Friday.  From there, scroll down to the purple Weekly Bonuses graphic, click it,  and grab all you want!  The more bonuses you have, the more you will make.  These are all FREE.
P.P.S.  Check out my special Bonus Page to see what I am offering for FREE.
P.P.S.  Did you miss any previous Lead Generation Lessons?  Get them HERE!
💯Copy Success!  It works!💯