Fred's 30 Day Lead Generating Process
As an online entrepreneur, one of the most effective ongoing tasks you'll undertake that will contribute to your income growth is lead generation. Getting subscribers on your email list allows you to communicate with them for months and years as they look to you for guidance, training, knowledge and recommendations.
Generating leads for any niche generally requires the same steps. Each one will provide you with new opportunities to grow your audience and business to its fullest potential. Below, you'll find a Step 1 of my 30-day plan for lead generation that can help you build a substantial list of niche followers.
Day 2: Turn Your Business Into a Brand with Graphic Design
The way you present your business will have a major effect on how people view your work and whether or not they want to sign up to your list. In order to draw in a crowd who views you as a top leader, you will need the right visuals and aesthetics for your brand.
When potential customers are browsing on Amazon, Etsy or other shopping sites (including digital courses), they will often make a quick decision based on the visuals presented to them.
When someone browses through the many options available to them in their search, they are likely to select a product that has the most professional branding. It's important to establish attractive visuals for your brand, especially your site and lead magnet graphics, since they are some of the biggest lead generators available to you.
Be consistent across all of your marketing efforts to use your brand.  All professional marketers do this… for good reason.
Your brand should have its own logo, color palette, and overall aesthetic. You can create your own graphics with tools like Canva and Photoshop. If you don't feel as though your work will suffice, you can hire a freelance graphic designer to help you complete your vision.
You can find freelancers like this on Upwork, where all you have to do is create a job listing and analyze the bids that come in. If you're on a budget, you can turn to Fiverr for a more cost-effective graphics gig.
You don't have to do a lot:  A picture of you and a simple graphic.  That's kinda all I use.  See header above.
Any questions?
Hit me up.
I'm here to help.
When you combine the above, $10,000/mo is not far off!  New lead source just added!!!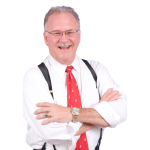 Fred "The Submarine Guy" Raley
Fred@SubmarineGuy.com
http://www.TrafficLeadsNSales.com
P.S.  Giving away bonuses is how all the successful marketers see success.  Want to get in that game?  Pick up your weekly bonuses at $5Friday.  From there, scroll down to the purple Weekly Bonuses graphic, click it,  and grab all you want!  The more bonuses you have, the more you will make.  These are all FREE.
P.P.S.  Check out my special Bonus Page to see what I am offering for FREE.
P.P.S.  Did you miss Lead Generation Lesson #1?
Copy Success!  It works!